Meet Brianna – Swim Coach
Swimming has always been an important part of Brianna's life. From being on neighborhood swim teams to competing with her high school swim team, swimming has become a true passion. After competing on her neighborhood swim team since she was a kid, she began coaching that same team all the way through high school until she moved to Waco to begin attending Baylor University.
After graduating from Baylor University in August 2019, Brianna moved back home to start a life doing what she loves to do. Brianna has seen how swimming at any age can turn into a lifelong love of the sport. Whether it is for the life saving safety, exercise, or a child learning to swim for the first time, Brianna wants to cultivate love for the water and help it grow into something they will utilize and enjoy for the rest of their lives.
The joy of seeing children learn to love the water while also learning how to save their own lives, helping adults who want to perfect their stroke, or helping them get in the pool for the first time ever, is what Brianna is most grateful for. To share her love of swimming with every person that walks through PowerPacked Swimming's doors. Knowing that we are helping them learn such an important skill and pushing them to gain that confidence in themselves is what PowerPacked Swimming is all about for Brianna. 
Meet B – Director of Aquatics
Coach Brenell has been swimming since she was 3 years old. Her mom was a swimmer and growing up her mom was her swim coach and helped her to develop a love for swimming. She was a long distance and IM swimmer throughout high school and college.
She is originally from Pendleton, OR and moved to Houston 7 years ago. She has been coaching and lifeguarding since the age of 15 and has taught all ages –from 4 months old to adults.
She is passionate about watching swimmers progress and grow in the water. She enjoys making personal connections with her students and believes that swimming is a great way build confidence. She prides herself on not only helping kids become safe in the water but encouraging them to love the experience of swimming! 
Meet Amber – Director of Operations
Amber is a problem-solver extraordinaire! She has worked in customer service for over 11 years in several different fields. She loves learning new things and helping others daily.
As the oldest of 8 children, Amber is used to finding 'outside of the box' solutions and keeping everyone happy. She was born and raised in Baton Rouge, LA (Geaux Saints!) and moved to Houston 3 years ago and her and her fiancé now call Houston home.
When Amber was younger, she began taking swim lessons. Shortly after that she had a drowning experience in the water that caused her to refuse to come back to lessons for many years. She has now turned her negative experience into a positive one by working each day to help people learn to swim. She considers swim lessons one of the most important things that everyone should learn, and her hope is that by offering the highest quality of instruction we can prevent as many drownings as possible.
Meet Cecilia – Owner
Cecilia was born loving the water. From her infancy into her adult life, she has felt extreme comfort and confidence when swimming. She is dedicated to swim instruction and sharing her love for the water with all her students.
Cecilia and her two sisters began their competitive swimming journey when she was 5yrs old. Their local YMCA was the first team she swam competitively with (Go, MD Anderson Gators!). She remembers fondly, traveling all around Texas, collecting medals. It was only the beginning of a lifelong love for swimming.
Cecilia comes from the northside of Houston, and attended Jefferson Davis High School, now Northside High School. In 2005 she met a swim coach who changed her perspective on swimming. Coach Warner Marsh had high expectations, for a team of young adults who were coming from a tough community, with undoubtedly tough circumstances. He did not spend time making excuses for his swimmers, but instead guided them to rise to their greatest potential, regardless.
When Cecilia began swim instruction, she met so many children who were not given high expectations and weren't required to continuously meet and surpass goals. Over the years she began to expect the best from her students, weather they were infant swimmers, seasoned competitive swimmers, or somewhere in between.
Cecilia now has four beautiful children. Juan (11yrs old), Apollo (7yrs old), Ezekiel (5yrs old), and Lilia (2yrs old), and they are of course wonderful swimmers. Her oldest son is participating in his third triathlon this year, and her daughter (20 months) can roll on her back and float independently and roll back to continue swimming.
With the support of her husband and their children, she has been able to teach hundreds of children to save their own lives, help adults conquer their fears, perfect the strokes of amazing swimmers, and share her love of the water.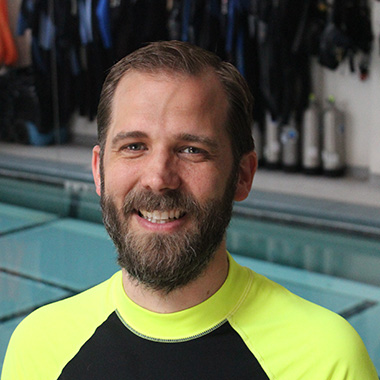 Meet Nathan – Owner/Founder
Nathan founded PowerPacked Swimming back when his oldest son was trying to learn how to swim. His wife had taken their son to multiple swimming schools with no success. Nathan told his wife, "just give me 30 minutes with him, and he will be swimming." She thought that he was being crazy! But 30 minutes later, their son could swim and she asked Nathan, how did you do that in only 30 minutes?! He said "it was a power- packed 30 minutes" and that is how "PowerPacked Swimming" began.
Nathan has a B.S. Minor in Physical Education with a concentration in swim. He has been trained in Red Cross and YMCA instructional swim techniques and is WSI certified. He is both a former 5A public high school and T.A.P.P.S swim coach.
Our goal here at PowerPacked Swimming is to get you moving in the water! We focus on three levels: acclimation, buoyancy, and movement. Swimming is not complicated. We want you to be confident in the water, so whether you are 2 years old or 72 years old — we would love to help you gain confidence and get you swimming.